Yesterday's model had the lowest piece count this year to date (minifigures excluded). Will today's model be any larger? And are we still in the Leaky Cauldron? Read on to see what was behind door number 8…
To answer the last question first – yes we are still in the Leaky Cauldron. As of whether today's model would be any larger – I must say I checked the room behind the door a second (and third) time, to see if anything more was hiding in there. But no – the few bricks in bag number 8 is what you get!
8 December model
Today's model is small round table for the Leaky Cauldron. The table itself is only two bricks, but you do get a bottle and two cups as well for a total of five bricks (no spares today).
Realising I wouldn't get much fun from building that by itself, I decided to "build-in-the-bag" to give a bit of extra challenge. Not that it took that much longer, but getting the angle on the cups handles right, too a bit of effort.
Here it is outside the bag.
Not really that much to say. To be fair, the two cups in flat silver colour are somewhat rare – having only been introduced this year. But they are available in six different sets. I'd rather have preferred the "butterbeer" glasses which we got with the some of the 2020 collectable minifigures and in the 2021 Hogsmeade Village Visit set.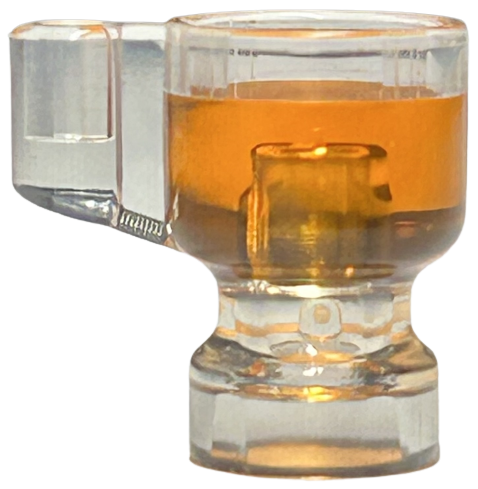 The model does go quite well with yesterday's Leaky Cauldron sign (I'm here showing the sign after I decided to add a Christmas decoration, as discussed in yesterday's post).
Summary
All days can't be above average, and today is definitely not. The two cups in a somewhat rare colour lift my score up to 2 out of 5 house points, but that may be too generous. Maybe the table could have had some more detail? Or they could have added some Christmas cookies on the table? Or a couple of chairs? Just five bricks really…
Well, the good think is that tomorrow almost certainly will be better! Will we see first model to score 5 points? Will it be another model – or are we due for another minifigure? We will soon find out. Check back tomorrow on the Advent Calendar review page to see.
Till then, Build the Magic!