I normally don't cover sets that are not Harry Potter, but when the 2020 set from the Winter Village series (the Elf Club House) was announced, I knew I would have to make an exception. Its shape was perfectly representing how the houses in Hogsmeade look in the movies. So I sourced one to see where it would take me…
Hogsmeade in LEGO
Hogsmeade is in my opinion very underrepresented in LEGO sets. The only ones that come to mind are the Shrieking Shack (set 4756) from 2004, which including the named building and Honeydukes, as well as Hogswarts Express version 2 (set 4758) also from 2004, which had the station (basically just a platform with a sign).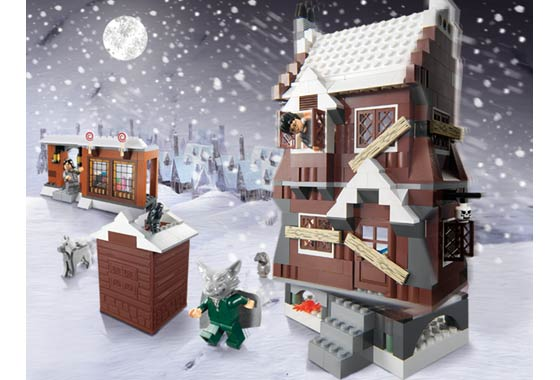 Hogsmeade will be an obvious candidate for future LEGO sets (2021 maybe?), with an updated versions of Honeydukes or the train station, or some of the buildings that have never been represented, like The Three Broomsticks, Hog's Head, Zonko's Joke Shop and Madam Puddifoot's Tea Shop (if anyone would like to recreate Harry's disastrous Valentine's day date with Cho Chang).
But with the village so far very underrepresented in sets, seeing the new Elf Club House (set 10275), I thought this could become the start of a Hogsmeade MOC (my own creation). With the steep sloped roof and tall brick chimney it looks very much like many of the buildings in Hogsmeade.
Here's a photo of the set.
For comparison, here is a photo of Hogsmeade from the Wizarding World of Harry Potter (Universal Orlando Resort).
The photo above really inspired me to try to build something similar, using the Elf Club House as a start.
The Elf Club House
So one Saturday morning in November, long after Christmas decorations had appeared in the shops, I had a look at the set, put on some Christmas music to get into the mood of the festive season.
Inside the box you find two manuals and a number of plastic bags numbered between 1 and 5. There is also a small sticker sheet. After having finished some sticker heavy models, it is somewhat a relief having so few stickers.
The small instruction manual covered a number of smaller builds, including a Christmas tree. Then you started on the club house, which is covered by the larger manual (using bags 2-5).
Here is what the completed club house looks like. The club house is inhabited by four elves. To help them they have a reindeer, which is based on Harry's stag patronus from the 2019 Expecto Patronum set. Having seen the reindeer, I think I may have to order another 7 Santa's sledge, as it looks amazing!
Overall, it is a great set and fits perfectly with previous Winter Village sets. I am sure it will be highly sought after for those building winter displays each Christmas (I know it is a family tradition in many homes).
From club house to Hogsmeade High Street.
But I didn't want to build just a winter display, I wanted it to be a Harry Potter themed winter display. Specifically, I wanted to build High Street (the main street in Hogsmeade) in Winter time, maybe with a few Christmas decorations.
So having finished, I only briefly stopped to take a few photos and then immediately after started reworking the set into how I wanted it.
Firstly, while I wanted this to be part of the Christmas scene, I wanted to make it a bit more subtle. So the first step was removing most festive elements along with the lookout.
Then I reworked the base in order to add an extension. I wanted to recreate the slightly curved feel of High Street from the photo of Hogsmeade. Using wedge plates, I prepared the extension to sit on a slight angle to the right of the existing building.
I wanted to add another two buildings, so the base for the extension was made approximately twice the size of the original model. I also did some work on the Club House, making it more rough and stone like and adding a proper door.
Then I started the base of the two new buildings and made adjustments as needed.
Then I had to take a pause while waiting for a few lots of extra bricks to arrive from various Bricklink sellers. Well arrived, that allowed me to build up the walls.
But it wasn't till I started on the gables, you got a good feel for how it would end up looking like.
Another couple of Bricklink orders allowed me to add more detail and progress the roofs. Here is what it looks like in its near final stage.
The light bluish grey building is meant to be The Three Broomsticks and has some good interior detail added.
I think the dark bluish grey building will become Zonko's Joke Shop while the original Elf Club House will become a book store or similar. But that has yet to come.
Where to next?
It's a good start, with a bit of detail to be added in terms of interior. But I am already tempted to add further extensions to it – for example Honeydukes (with Harry arriving through the secret tunnel under his invisibility cloak) and the Hog's Head pub, where Dumbledore's Army got founded. And maybe a separate base with the Shrieking Shack on a hill top to sit at the back of the display.
But in the next day or so, I'll be busy doing minor cosmetic updates, as this is going on display on Saturday.
With my usual luck, Hogsmeade is going to come as official sets in mid 2021 (as it happened with Diagon Alley).
At this point, a big thank you to LEGO's AFOL Engagement Team for providing the Elf Club House set for review, though I should stress that the views expressed in any review are my own.
For those tempted to get one yourself, see below (affiliate links) for regional pricing and availability. It does however appear to be temporary out of stock in most regions:
I hope it has inspired some to have a go with similar models. It is great fun really. I better get back to building myself – I'll post photos from the display in the weekend soon.
Till then, Build the Magic!